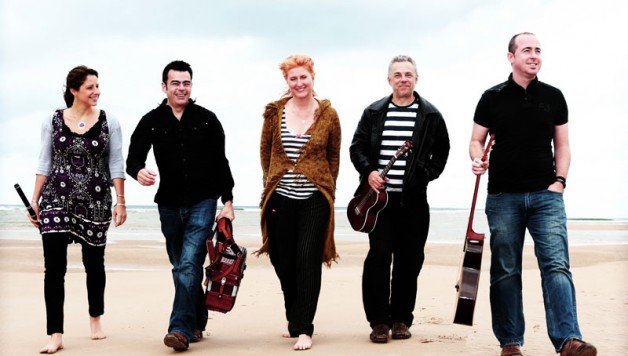 Alan Kelly Gang with Eddi Reader
Sun Oct 27th @ 8pm in Kylemore Abbey Church.

Alan Kelly – accordion
Steph Geremia – flute, vocal & whistles
Ian Carr – guitar & vocal
with
Eddi Reader – vocal & guitar
John Douglas – ukulele, guitar & vocal

Fronted by Ireland's piano accordion maestro, described by New York's Irish Voice as 'in league with the best piano accordionists in the world', The Alan Kelly Gang have been creating quite a stir on the traditional & folk circuit taking their audiences by storm and impressing both music lover and critic alike.  Performing beautifully arranged songs and instrumental pieces from throughout the Celtic regions including Ireland, Brittany, Asturias and Louisiana as well as original compositions that stem from a deep traditional sensitivity, skillfully executed and soulfully delivered, their sound is fresh and unique with their strong dynamics, driving rhythms and buoyant harmonies. Their music will draw even the most fainthearted listener into the passion that they put into the music they play – magical, joyous and uplifting!  "The arrangements are world class, as are the musicians, and Ireland is always somewhere in the mix." Irish Music Magazine
The past few years have been extremely busy for the band with top festival appearances worldwide including: WOMADelaide, Australia; Edmonton Folk Music Festival, Canada; Winnipeg Folk Festival, Canada and Festival Irlandays, Paris to mention just a few. They have earned a formidable reputation on the live music scene and honed their distinctive and exciting sound through constant touring. On this tour they will preview material from their forthcoming album due for release Feb 2014.
The Alan Kelly Gang team up with Scotland's internationally acclaimed and mesmerizing songstress, Eddi Reader, of Fairground Attraction fame and Trashcan Sinatra's guitarist and songwriter, John Douglas. The result is sheer musical synergy in its most natural form. Once a collaboration, now a band, their performances have been praised for leaving audiences spellbound; Scotland's The Living Tradition magazine has described it as 'an astonishing concert'.
Eddi Reader has effortlessly developed into one of popular music's most thrilling and affecting performers, with an MBE, a number 1 single and 7 acclaimed solo albums behind her, what sets Eddi apart is the depth and quality of the emotional performance; her ability not only to move the listener, but to connect her experience to that of her audience. Her rare blend of meltingly true vocals and towering romanticism combine with an astute and pragmatic nature to make her a unique and powerful figure in contemporary British music. From the traditional to the contemporary, Eddi extinguishes the preordained boundaries of genre, bringing joyous life to all forms of song.
Since 2005 Alan Kelly has toured the world as part of the Eddi Reader Band and recorded on her last four albums. His friendship with Eddi resulted in a beautiful collaboration on a song penned by John Douglas. The collaborative work 'I Hung My Harp Upon The Willows' appears on Alan's 2009 album, After The Morning, which was named as one of the 'top ten musical highs of 2009' by the Irish Times who described it as a 'humdinger of a collection'. In 2010 Alan, Eddi and the gang joined forces for three major Irish arts festivals, each a resounding success driving the collaboration to new heights. In 2011 the Alan Kelly Gang again teamed up with Eddi and John for the evocative, 'Connemara', released on the Alan Kelly Gang's album, Small Towns and Famous Nights. The song was playlisted on Ireland's national radio station, RTE Radio 1 and followed by a sell out nationwide tour of Ireland. The project has since evolved into a global headlining act.
The Alan Kelly Gang with Eddi Reader will perform at Kylemore Abbey, Oct 27th @ 8PM
as part of Conamara Seaweek.
For further information contact Leo (085) 1154629 leo.hallissey@gmail.com